Are you looking for a Top Vein specialist near Clifton, New Jersey? You're in the right place. We've helped thousands of happy patients just like you. We treat Spider and Varicose veins on legs and offer cutting edge treatments such as Sclerotherapy and Radiofrequency Ablation.
Why Choose Our Vein Clinic in Clifton, NJ?
Accredited Vein Clinic in Clifton

: Our spider vein and varicose vein clinic in Clifton, NJ, is accredited by the Intersocietal Accreditation Commission (

IAC

), an organization that sets the gold-standard for all vein clinics. Only a handful of vein clinics in the country meet the rigorous requirements necessary to receive this accreditation, and we are one of them.

Board-Certified Vein Doctors

: We individually pick the country's most talented vein specialists from reputable residency and fellowship programs. Furthermore, our vein doctors are officially recognized by the American Board of Venous and Lymphatic Medicine (

ABVLM

) for their exceptional contributions to vein care.

Personalized Vein Treatments

: We only provide personalized vein treatments that address your specific needs. Our vein doctors curate the vein treatment plan based on your symptoms, diagnostic results, medical history, insurance coverage options, lifestyle factors, and your expectations.

Non-Surgical Vein Treatments

: Our Clifton vein clinics in NJ only provide minimally invasive vein treatments, i.e., procedures that conclude within an hour with no general anesthesia, hospitalization,  harsh side effects, complications, or downtime. You can resume your daily activities and work as soon as you leave the vein clinic.

Free Insurance Verification

: We provide free insurance verification and access to an individually-assigned insurance concierge. The concierge handles all the paperwork on your behalf, helping you achieve optimal coverage for your vein treatment.

Transparent Billing

: We are completely transparent about the billing — you get a detailed breakdown of your costs (with or without insurance) before you proceed with your treatment.

Perfect Ratings

: We maintain perfect ratings on Google, Real Self, Facebook, and other online platforms because of our perfect track record and exceptional standards of vein care.
Your Minimally Invasive Vein Treatment Options
Our vein clinic in Clifton specializes in minimally invasive vein treatments, as mentioned above. However, instead of following a cookie-cutter treatment plan, we individualize the vein treatment to address your specific goals and concerns. Your minimally invasive vein treatment options include endovenous radiofrequency ablation, endovenous laser ablation, venaseal, sclerotherapy, clarivein, foam sclerotherapy, and pre-mixed foam sclerotherapy. Each vein treatment has its unique pros/cons, and each is particularly suited to address different needs.
You can read a detailed description of the minimally invasive vein treatments here.
Consult Our Top-Rated Vein Specialists Today
At our vein clinic in Clifton, NJ, you can rest assured that your vein treatment will be handled by the most talented vein doctors. We individually select board-certified vein doctors from the country's leading fellowship and residency programs, ensuring they have great bedside manners and exceptional credentials. Our vein clinic in Clifton is led by Dr. Sareh Rajaee, an incredibly friendly vein doctor with ABVLM certification, an Ivy League education, and specialized training in vascular imaging.
You can read more about our top-rated vein specialists here.
Directions to Our Vein Clinic in Clifton, NJ
Our vein clinic in Clifton is located at 1117 US-46 Suite 205, right off NJ-3 and near the garden state parkway, a short drive past the Ford dealership on route 46-E. The location is highly accessible and features plenty of parking spaces. You can reach our vein clinic by following these directions:
To get to our vein clinic near Passaic,

travel down Passaic Ave and NJ-3 W.

To get to our vein clinic near Wayne,

travel down NJ-23 S and US-46 E.

To get to our vein clinic near Hawthorne,

travel down NJ-20 S and US-46 W or Garden State Pkwy.

To get to our vein clinic near Newark,

travel down NJ-21 N and NJ-3 W or Garden State Pkwy.

To get to our vein clinic near Woodland Park,

travel down Lackawanna Ave and US-46 E.

To get to our vein clinic near Ramsey,

travel down NJ-17 S and Garden State Pkwy to Grove St in Clifton.

To get to our vein clinic near West Milford,

travel down NJ-23 S, NJ-208 S, or I-287 S.

To get to our vein clinic near Roxbury Township,

travel down I-80 E in Mount Arlington from Emmans Rd, US-46 E and Howard Blvd, and follow I-80 E to US-46 E in Wayne.

To get to our vein clinic near Livingston,

travel down I-280 E and Garden State Pkwy, US-46 E, and County Route 609 and US-46 E.

To get to our vein clinic near Union,

travel down Garden State Pkwy and NJ-3 W to Conklin Dr.
VEIN TREATMENT CLIFTON

NEW JERSEY
1117 US-46, No. 205,
Clifton, NJ 07013, United States
Let us give you a Lifechanging Experience. Feel in love with your legs again!
Receive the best care in our state-of-the-art vein treatment facility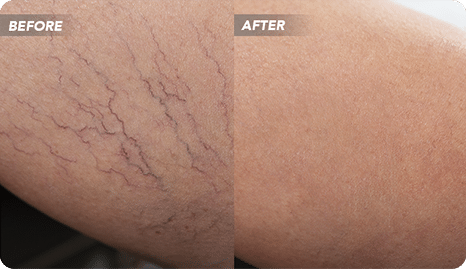 Join thousands of our happy patients!

Speak instantly with one of our team members; they will answer any questions you may have regarding insurance coverage, booking an appointment and our vein treatment locations. (973) 447-3227

Visit our Book Appointment page and instantly request an appointment at our Clifton vein center. We offer Free Insurance Verification before your appointment.

Get directions
Learn how to easily get to the Clifton NJ vein center.